My work with athletes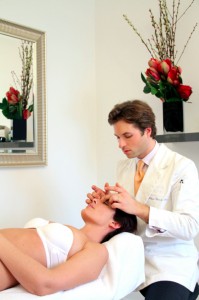 "Young rider in dressage, I liked to analyze the movements of horses, the positions of the best riders. Why ? Because it was the only way to become the best.
I remember the long afternoons spent viewing videotapes of equestrian championships in my parents' living room while reading books on horses' physiology. Thanks to this intense practice throughout many years, I forged myself a keen eye in the analysis of movements, even at very high speed. Today, as an osteopath, this faculty of observation allows me to take in charge top athletes in different sports. My passion for human physiology leads me to search for my patients the best movement without difficulty or risk for the body."
"Osteopathy can be helpful in both the treatment and prevention of musculoskeletal problems. The osteopathic belief is that the body may heal itself, given the right environment in which to do so."
In sport, osteopathy is often used as a preventive measure in order to keep the body in optimum condition and to reduce the risk of injury in the future. Professional sports people use osteopathic treatment as a means of keeping their bodies in optimum physical shape as well as a way to heal or ease existing conditions.